Automation for Dispensing and Recovering Hospital Scrubs and Other Folded Garments
Designed primarily as a Hospital Scrubs dispenser, The Quirepace Titan System is the solution for the automatic management of all types of folded garments within Hospitals and other organisations, such as Hotels, Spas, Gyms and other leisure and hospitality organisations where uniforms and garments are issued to staff and other personnel.
TITAN is suitable for dispensing and stock management of clean-room protective garments within pharmaceutical, medical and electronics manufacturing and can also be used for PPE within the food processing industries. Using the TITAN system for dispensing cleanroom garments, for example, ensures that operatives receive personalised sized garments without any requirement for consolidation into complete "person packs"; the correct individual garments are dispensed according to the operatives allocation determined through their smart card or ID. In fact wherever folded garments must be issued and recovered with efficient stock management, TITAN is the solution.
TITAN offers an alternative to locker rooms. The TITAN dispenser can store 240 garment packs in a single square metre of space. In some organisations, laundered garments are delivered to personal lockers. Replacing lockers with a TITAN dispenser and retrieval system can not only decrease the amount of time taken to distribute garments to individual lockers, but also provides a continuous stock check of garments available, in use, and returned.
TITAN is a complete Garment Vending System suitable for Scrubs, Trousers, Shirts, Jackets, Coveralls, Coats, and also for smaller items of PPE such as masks and hats. The system works with UHF RFID technology enabling the complete monitoring and extensive control of the garments' movements, from the automatic delivery of clean uniforms to the recovery of soiled items, 24 hours a day. The system consists of:-
A Dispensing Unit for the delivery of clean uniforms, hospital scrubs and other garments

A Recovery Unit for receiving soiled garments

Management Software to track and control the garment stock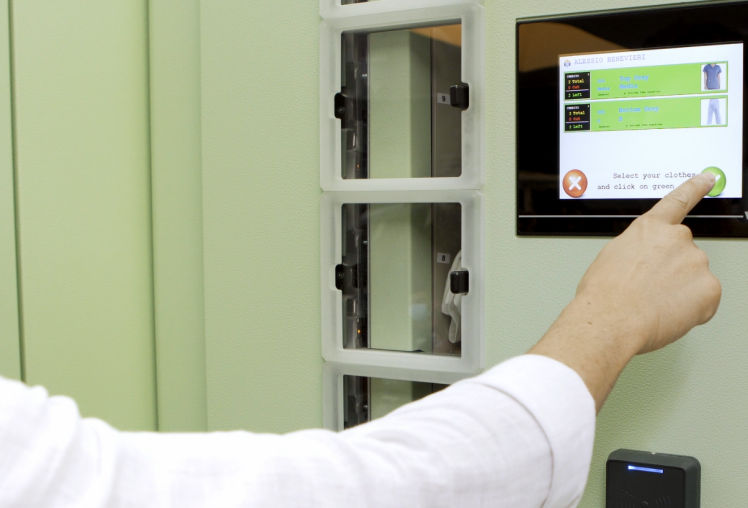 An RFID microchip is attached to each garment either by using an iron-on adhesive or by sewing the tag into the garment. The tags are extremely durable and capable of withstanding at least 200 washes. The RFID tag permits total garment tracking. Each chip gives the article a unique identification. The identity of each garment is linked to the employee to whom the garment belongs. It is also possible to link garments by size or style without linking them to a particular user. Information relating to all transactions is automatically stored into the system's database. The data is transmitted to a central server via an ethernet connection.
When collecting garments, the user identifies themselves using a swipe or proximity card, and collects their chosen item. The system logs the garment's unique identity against the user and subtracts a "credit" from their allocation. When the garment is returned, the user's credit is updated.
In a hospital, efficient management of hospital scrubs and other garments is beneficial to the overall infection control strategy. The RFID system combines with the user ID to deliver a system where not only is the location of each garment known at all times, but as the clean garments are used each day, the RFID system registers exactly what stock has been used and generates an automated list for replenishment.
Efficient control and management of hospital scrubs is becoming more and more important in sensitive areas such as Accident and Emergency Department, Casualty, Intensive Care, and other areas particularly sensitive to infection control. The TITAN garment and scrubs management system is the intelligent solution for uniform management.
Download our TITAN brochure for more information