Automated carrier unloading for a Pneumatic Tube System in a healthcare setting has been an aspiration for many years. Finally, Quirepace are able to offer the Minerva Triton station which delivers automatic carrier receipt, unloading and despatch in a relatively inexpensive package and which does not rely on major system upgrades to existing installations.
Handling 160mm carriers in high quantities has always been challenging. Whilst the larger carriers have the advantage of greater payload compared to smaller diameter systems, they are more unwieldy to manually handle and process, and require adequate space in the reception area.
Minerva Triton uses the latest generation of standard swivel-top 160mm carriers which are fully compatible with all other stations in the Minerva range, allowing Triton to be either a simple "bolt-on" to existing equipment, or the central hub of a new installation.
This new Automatic Carrier Unloader has been designed specifically for UK and other markets where samples are often contained in specimen bags. Bags, if tightly packed, will not necessarily fall out just under gravity, so Triton includes a "pusher" which ensures the carrier is cleared completely during the automatic emptying cycle.
The carrier contents are ejected underneath the Triton cabinet and may be discharged into any suitable receptacle or on to a conveyor as illustrated above.
Ideally Triton is served by two separate systems on the Pneumatic Tube System network so that the arrival and departure parts of the process can be segregated. This also delivers the highest throughput of up to >120 carriers/hour. The whole process is fully automated, with the carrier ID# being identified through RFID on arrival, and again on despatch. Should any carrier be incapable of being automatically processed, then it is ejected into a default delivery tube below the unit.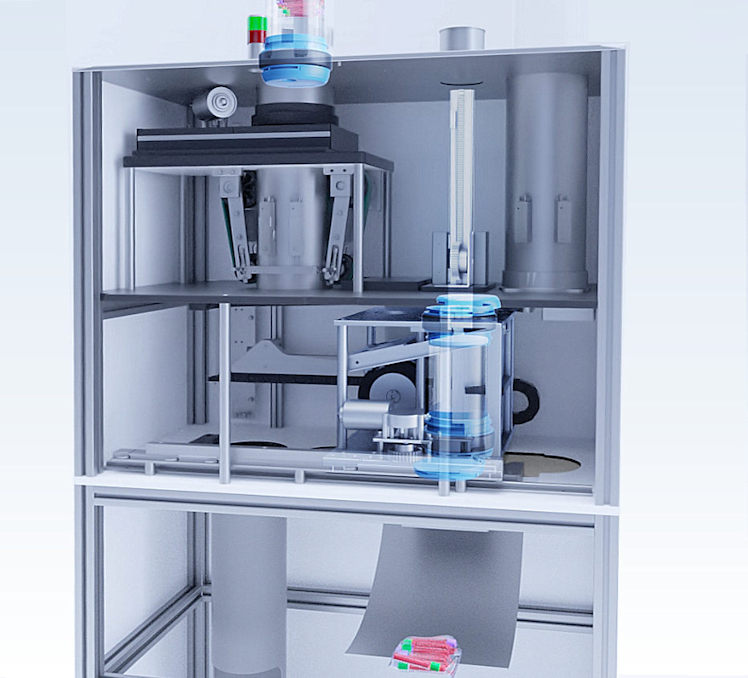 If you already have or are planning a 160mm Pneumatic Tube System in a Hospital or other facility and wish to automatically handle high volumes of carriers, then contact us now and find out more about the new Minerva Triton station.