The compact "drive-under" style of AGV is the preferred solution for UK Hospitals due to its small size and manoeuvrability in restricted spaces.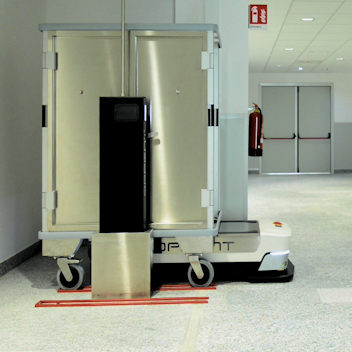 Hospitals use a wide variety of carts and containers to move products around the site. These include Roll Cages, Waste Carts, Food Carts, Linen Trolleys and many other types. In order to integrate an AGV system into the operational hospital environment, not only must the technical challenges of introducing an AGV system be addressed, but also the interface between AGV and Manual Operations must be integrated into a viable process.
A  Hospital AGV carries the cart or cage by driving underneath it and then raising the deck of the vehicle so that the casters of the container are clear of the ground, enabling the payload to be easily transported.
This method of carrying containers is safe, secure, and can easily be validated as a "safe system" under LOLER, since both container and AGV are designed to be compatible. However, it imposes a requirement that the cages, carts and containers must be constructed so that they can engage with the AGV.
Quirepace Sales Specialists have worked with many of the UK's suppliers of carts and containers to develop designs that provide a similar function to an "ordinary" container, and yet have the appropriate dimensions and clearances to engage with an AGV.
The containers are usually fitted with an RFID transponder that uniquely identifies them, and this, together with the task-matching system used by the AGV installation enables each cart to be allocated to the correct route and destination.
The images below illustrate AGV compatible Roll Cages and Waste Carts from Wanzl www.wanzl.com and Taylor Bins www.taylorbins.co.uk respectively.